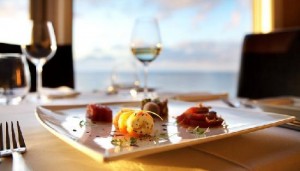 Portuguese cuisine has a very strong Mediterranean influence. Olive oil and garlic are almost indispensable, along with a host of other spices, such as saffron, black pepper and chilli peppers. They come together in the most delicious of preparations. Weary travelers like yourself will undoubtedly want to gorge themselves on the food of this region after a day of site seeing. If you are visiting Estoril in particular, then this is a list of restaurants that you cannot miss.
Tertulia Do Monte Restaurant
Owned by Pedro Roxo, this small restaurant in Monte Estoril offers both generous servings of delicious Portuguese recipes and fair pricing (average of 20 Euros). The atmosphere is inviting and the decor simple yet cozy. The highlight of which is a large blackboard where customers can scribble messages when they arrive or depart.
This restaurant is closed on Sunday and Saturday afternoons, and is best known for the following dishes –
Brushquetas goat cheese and ham appetizer
Sautéed scallops with Portobello and white sauce
Cured duck magret with apple puree
Shrimp risotto with curry
Chipped cod with potato mousseline
Chocolate cake with vanilla ice cream
The restaurant is international, it seats 32 people and is open from 12pm- 3pm and then from 7pm- 11pm.
Pastelaria Garrett
This patisserie, operational since 1934, is possibly the most frequented confectioners in Estoril. It was rebuilt in 1999 but still maintains its old world charm while allowing for an improvement
in food and service. Its atmosphere and enticing smell of baked treats draws in people of all ages and its decor is stylishly modern and elegant.
Garrett's pastries are most famous and include –
King cake
Homemade bread
Strawberry cheesecake
Pies
Garrett's offers excellent service as well as both breakfast and lunch services. However, they do not have a dinner service.
Zeno Lounge
This lounge can be found within the Casino Estoril. Its cuisine is undoubtedly contemporary fusion, which draws from many different regions around
the world, owing to the fact that the owner is Brazilian. Its decor incorporates warm colors to create a relaxed and refined atmosphere. During winter, the
lounge opens for lunch and serves the Brazilian dish- 'feijoada a'.
Zeno Lounge specializes in –
The Lounge is open for lunch on Sundays from 12pm-4pm and for dinner from Mondays to Thursdays beginning at 7:30pm and closing at 12am. On Fridays and Saturdays the dinner service begins from 7:30pm and ends at 1:30am.
Di Casa
This is an Italian pizzeria in the heart of Estoril, Portugal, which serves wood fired pizzas and a plethora of fresh salads. They also serve pasta, spaghetti and a number of desserts. Their staff are warm and welcoming, the service speedy, the portions generous and the prices reasonable. They offer brunch, lunch and dinner services, and are best known for their cannolis and seafood platter.
While these restaurants are some of the best in Estoril offering mouth-watering dishes which will leave you wanting more, there are others that are equally spectacular. This includes names such as O'Alcatruz, BAr Piccadilly Circus, Traquitanas, Jackpot and Restaurante BG Bar. Visiting Estoril without eating at one or all of these locations would
be a complete waste that you will regret, so take the time
to book a reservation and treat your taste buds.
Sources:
http://en.wikipedia.org/wiki/Portuguese_cuisine
http://www.tripadvisor.in/Restaurants-g189156-Estoril_Lisbon_District_Central_Portugal.html
http://www.estoril-portugal.com/en/restaurants/zeno-lounge/info