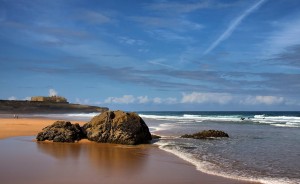 Estoril is a municipality of Cascais, which is part of the Lisbon District in Portugal. Now that you know exactly where it is, you should also know what Estoril has to offer- a long strip of golden sandy beaches that can be reached either by train (Linha de Cascais) or the seaside road called the Marginal.
These beaches are also linked by a well-lit Paredao, or walkway, that is dotted with restaurants, bars, exercise stations, changing rooms, showers and toilets, all of which are under the
watchful
eye of well placed security teams.
Guincho Beach
This is one of the largest beaches along the Lisbon Coast with over 800 meters of sea shore. Strong winds and big waves are a constant here, making it a perfect spot for windsurfing, surfing, kite-surfing and body-boarding; casual swimming, on the other hand, is discouraged. The beach features a wind surfing school and first aid point, the entirety of which is overlooked by the Estalagem Muchaxo Inn.
Abano Beach
Towards the North of Guincho, situated in a small bay and with a large rock formation protruding from its middle, is Abano Beach. This sheltered beach has calm winds and water and it may be accessed via a staircase that has been cut into the rocks after quite a substantial
walk
from Guincho. This small beach is only a 100 meters, but the surrounding cliffs are home to restaurants and cafes that offer a spectacular view.
Cresmina Beach
Unlike Abano, the 300 meter long Cresmina Beach is easily accessible via a nearby bus stop, and lies in a small inlet. In spite of being enclosed by cliffs, there are strong winds and waves, which is why casual swimming is prohibited.
Santa Marta Beach and Ribeira Beach
Santa Marta can be found behind the Castro Guimaraes Museum, and if you are in the mood for a little dancing, then Estoril's largest discotheque, 'Coconuts', is only 110 meters away.
Ribeira, or 'Praia dos Pescadores', the fisherman's beach, got its name as a result of its nearness to the fish market. This beach is situated in the middle of Cascais and as such, is surrounded by restaurants, shops, train and bus stops, parking facilities and the Town House.
Parede Beach
At 131 meters, the small Parede Beach is not only beautiful but also therapeutic, its water is rich in iodine which is why so many come here to ease their aching bones. This beach is also significant because in 1940 it was reduced in size to make room for the Marginal.
12 Other Beaches
Rainha Beach, which was named after the last Queen of Portugal, Rainha Donna Amelia, who used to bathe in it during the summer months; it is only 50 meters wide.
Conceicao Beach, which is situated between the firmer Court Justice Building of Cascais (Chalat Faial) and the Chapel (Nossa Senhora de Conceicao) from which it gets its name.
Duquesa Beach, which is named after the Duchess of Palmela who would visit it often; its main features include colorful umbrellas, a diving school and pedal boats for rent.
Tamariz Beach, which features an Ocean Swimming Pool or 'Piscina Oceanica do Estoril' towards its Eastern end.
Moitas Beach is located between Duquesa and Tamariz.
The Poca Beach is overlooked by a former Fortress that has now been converted into a disco – 'Forte Velho'.
Azaruhinja is a cove that is surrounded by cliffs and is great for pleasant walks.
Sao Pedro is a quiet beach in a semi-urban area between Cascais and Lisbon, and is frequented more by homeowners and locals.
Caxias Beach near the Sao Bruno Fortress is a quiet spot and one of the most naturally beautiful beaches in Estoril.
Paco de Arcos is a 240 meter long beach that is better known as 'Praia Nova' or New Beach.
The Santo Amaro de Oeiras is

the beach closet to Lisbon and it is the site of many beach football and volleyball tournaments.

Carcavelos is the largest beach in Estoril at 1,359 meters; the beach accommodates a skate half pipe, volleyball net and basketball court.
In spite of being a small town, Estoril boasts 22 beaches, of which, 17 have been mentioned above. The other 5 include Torre, Parede, Avencas, Bafureira and Poca beach, which are small yet equally relaxing and beautiful. These beaches fall in line, one after the other, and each offers a host of shops and snack bars which are sure to keep you occupied all day. They are among some of the best in Portugal and are worth the visit.
Source:
http://www.cascais-portugal.com/Beaches/Praia-Tamariz-Beach-Cascais.html
www.worldtravelguide.net/portugal/estoril-beaches
http://www.portugalvirtual.pt/cascais-estoril/beaches.php#.U1C5iShLYg6
http://www.cascais.net/guide/do/leisure/beaches
http://www.estoril-portugal.com/en/nature/beaches