Estoril, being suc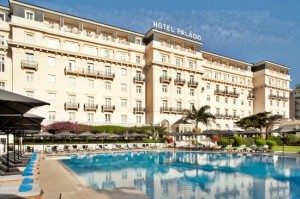 h a popular tourist destination in Portugal, is replete with excellent hotels both large and small, grand and refined and yes expensive
and reasonable. While it is not possible to discuss each and every one of the hotels in Estoril, here are the top five that have the best guest ratings.
Sana Estoril Hotel
Sana combines a modern outlook with classic furnishing. This hotel overlooks both the Atlantic Ocean and the Tamariz Beach in Estoril. Each room is fitted with air-conditioning and large windows that let in natural light and offer guests an un-blocked view of the beach and ocean below. All rooms come with flat screen televisions in the main rooms, and hair dryers in the bathrooms. Sana is located only 300 meters from Estoril's Convention Center; it features both terrace and lobby bars, which serve –
Soft drinks
Cocktails
Snack
Light meals
Buffet breakfast
Sana boasts an outdoor swimming pool and golfing facilities that are nearby. The Casino Estoril is close by as is the Lisbon Airport and Estoril Train Station. Guests may also avail of the free parking for the entirety of their stay.
Vila Gale Estoril
The Vila Gale is even closer to Tamariz Beach than Sana Estoril, as it is only 2 minutes away. This hotel also has an outdoor pool that offers spectacular views of the Atlantic Ocean and the Cascais Bay. Vila Gale has a health club sauna and spa where
guests can unwind and enjoy a relaxing massage. This hotel can also be used for business as it boasts 4 conference rooms and each private room is fitted with a desk. Rooms also include satellite television, air-conditioning and depending on the room booked, a panoramic view the ocean.
The hotel's Restaurant Inevitavel serves classic Portuguese dishes and a superb wine selection or guests could choose to enjoy a few cocktails at the hotel's Royal Bar. Like the Sana the Vila Gale is located closed
to the Lisbon Airport and Casino Estoril.
Saboia Estoril Hotel
Saboia is located in Monte Estoril which is 10 minutes away from the heart of Estoril and Cascais. Lisbon Airport is a mere
30km away and the Tamariz and Cascais Beaches only 5 minutes away. Each room in this hotel has been decorated with
a different colored floor
tiles, the rooms are also air-conditioned, have their own TV and work desks, and offer views of the ocean and surrounding gardens. Almost every room has a private balcony. The hotel also features –
A lobby bar
Solarium
Fitness center
Outdoor pool
Sun loungers
Hotel Londres
This hotel is 500 meters away from Tamariz Beach, and 15 minutes away from Cascais. Its rooms are equipped with flat screen satellite televisions, desks, telephones, air conditioning and attached baths with free toiletries. Nearly every room also has a balcony. Londres also has an outdoor pool for guests and its restaurant named Sal and Pimenta serves both breakfast and dinner. The hotel also has a hotel bar where guests may enjoy snacks and cocktails.
Other facilities include –
2 hairdressers
Car rental service
A newsagent
Free public parking
Hotel Inglaterra Charme & Boutique
The Inglaterra is 3 minutes away from the Estoril Convention Center, 7 minutes away from the Estoril Casino, and 10 minutes away from the Tamariz beach. Even the Estoril Train Station is in close proximity at only 250 meters.
The hotel features –
A large terrace with lounge chairs for sunbathing
Large living room with fireplace and flat screen TV
A gym
Outdoor massage tent
Surrounding gardens
A restaurant that serves both international and Portuguese cuisine
Outdoor pool
Each room has been decorated on soft colors, has its own attached bathroom and offers views of the Atlantic Ocean and Estoril.
These hotels are the top five in Estoril because they offer their guests everything, comfort and relaxation, convenience, delicious food and sparkling wine and cocktails as well as fantastic service. Other hotels which are also worth considering include the Palacio Estoril Hotel Golf and Spa, Villa Unika Lisbon Coast, and the Hotel Alvorada.